Pass-Thru Warming Cabinets
Pass-Thru Warming Cabinets are an indispensable link in the chain between the cooking and final serving of school foods.  Typically located in a pass-thru wall between the kitchen and the serving line, pass-thru warmers provide the backup hot food supply for staff who are working at the serving line.  Without this important equipment in place to provide a valuable reserve of hot foods, things at the serving line would be much more hectic. 
Construction is paramount in the long-term durability of pass-thru warmers because they are so heavily used day in and day out from both the kitchen side and the service side.  Heavy-gauge stainless steel exteriors and interiors ensure reliable performance and attractive appearance for many years. Thoughtful features like stainless steel breaker strips, low profile door handles, self-closing doors that stay open beyond 120° to make loading easier, and magnetic door gaskets make a real difference over the life of the unit as well. 
Below you'll find our most popular pass-thru refrigerator models from Carter-Hoffmann and Victory, but we have other sizes and finishes available as well.  If you should have any questions or need any additional assistance in selecting the right pass-thru warming cabinet for your needs, please let us know – we're here to help!
Pass-Thru Warming Cabinets
Two-Section Pass-Thru Warming Cabinet

Stainless Steel Exterior & Interior
Victory HS-2D-1-PT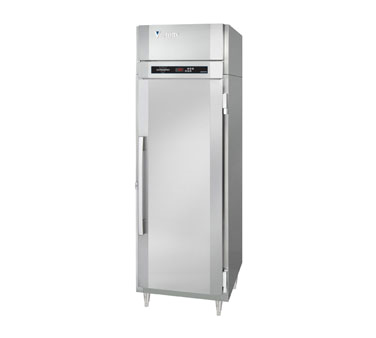 One-Section Pass-Thru Warming Cabinet

Stainless Steel Exterior & Interior
Victory HS-1D-1-PT